All Hail the Queen!
The high holy day is upon us….Beyoncé's birthday is Sunday, September 4th! We don't have the slightest bit of shame admitting that we plan on celebrating the Queen's birthday ALL.WEEKEND.LONG! Whether you plan on throwing a party, going to the club, rocking out in a WERQ class, dancing in your kitchen, or cruising along while busting out some serious car-eography, we have you covered! Check out our WERQ routine inspiredBeyoncé themed playlist. These songs are either by the birthday girl herself, her man, Jay Z, or other fabulous artists that she has collaborated with. 
It's time for YOU to SLAY just like BEY!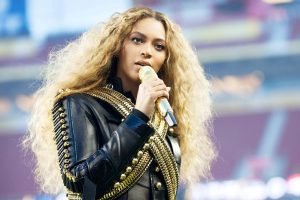 Don't Hurt Yourself -Beyoncé
Formation -Beyoncé
Feeling Myself – Beyoncé and Nicki Minaj
7/11 -Beyoncé
End of Time -Beyoncé
Love on Top -Beyoncé
Countdown -Beyoncé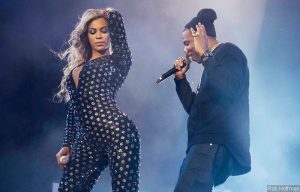 We know that Jay Z better have something special planned for Bey's birthday this year. WERQ it out to these Jay Z routines:
Tom Ford – Jay Z 
Talk That Talk – Rihanna featuring Jay Z
Suit & Tie – Justin Timberlake and Jay Z
In Paris – Jay Z featuring Kanye West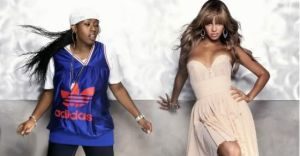 Beyoncé and Missy Elliott collaborated on the song "Nothing Out There for Me" and "Signs." WERQ it to these Missy Elliott routines:
Strive – A$AP Ferg and Missy Elliott
Pep Rally – Missy Elliott
WTF (Where They From) – Missy Elliot featuring Pharrell Williams
BURNITUP! – Janet Jackson featuring Missy Elliott
That's How I'm Feeling – Ciara featuring Pitbull and Missy Elliott
Take U There (Missy Elliott Remix) – Jack U, Diplo, Skrillex featuring Kiesza
Beyoncé and Lady Gaga collaborated on "Telephone." WERQ it to these Lady Gaga routines:
Gypsy – Lady Gaga
Do What U Want – Lady Gaga featuring R. Kelly
Born This Way – Lady Gaga
Applause – Lady Gaga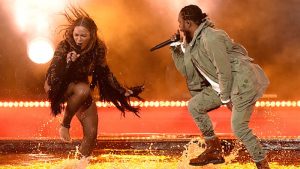 Beyoncé and Kendrick Lamar collaborated on "Freedom." WERQ it to these Kendrick Lamar routines:
Swimming Pools (Drank) – Kendrick Lamar
Bad Blood – Taylor Swift featuring Kendrick Lamar
"i" – Kendrick Lamar
Next To Me – Emeli Sande featuring Kendrick Lamar
Give It 2 U – Robin Thicke featuring Kendrick Lamar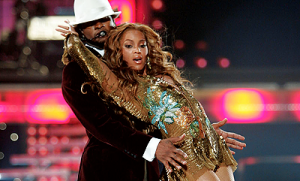 Beyoncé and Usher collaborated on "Love in This Club Part II." WERQ it to these Usher routines:
I Don't Mind – Usher featuring Juicy J
Body Language – Kid Ink featuring Usher and Tinashe
Without You – David Guetta featuring Usher
She Came To Give It To You – Usher and Nicki Minaj
Scream – Usher
Rest of My Life – Usher featuring Ludacris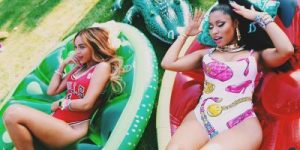 Beyoncé and Nicki Minaj collaborated on "Feeling Myself" and the "Flawless (Remix)." WERQ it to these Nicki Minaj routines: 
Starships – Nicki Minaj
Back Together – Robin Thicke featuring Nicki Minaj
Trini Dem Girls – Nicki Minaj featuring Lunchmoney Lewis
Hey Mama – David Guetta featuring Nicki Minaj
The Night Is Still Young – Nicki Minaj
Truffle Butter – Nicki Minaj featuring Drake and Lil Wayne
Touchin', Lovin' – Trey Songz featuring Nicki Minaj
Va Va Voom – Nicki Minaj
                                                                                Tapout – Rich Gang featuring Lil Wayne, Birdman, Mack                                                                                                                 Maine, Nicki Minaj and Future
Beyoncé and Drake collaborated on "Mine." WERQ it to t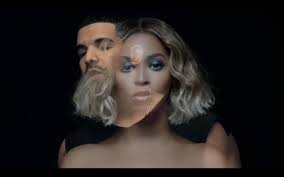 hese Drake routines:
Too Good – Drake featuring Rihanna
Why You Always Hatin' – YG featuring Drake
One Dance – Drake featuring Wizkid and Kyla
Work – Rihanna featuring Drake
Right Hand – Drake
Trophies – Young Money featuring Drake
The Motto – Drake featuring Lil Wayne
Take Care – Drake featuring Rihanna
Whew! Now do you understand why we are celebrating Queen B all weekend?!?!? As if Beyoncé's birthday wasn't enough reason to celebrate, the WERQ Shop Labor Day Sale is on. You will save 30% off shades, headbands, tumblers, festival tanks, and sweat bands. Buy yourself a little something to celebrate Bey's birthday.
HAPPY BIRTHDAY, BEYONCÉ!!
Danielle Porte
Training Manager
WERQ Fitness