GTLFTD LA… Love, Energy, Sweat, and Swag. 
In February, GTLFTD Dance Fitness Festival spread its wings and headed to the west coast for the first ever GTLFTD LA. Dance fitness friends from near and far came together to experience epic Sweat Sessions with inspiring dance fitness instructors. The GTLFTD stage welcomed Kirsten Potenza — CEO and Founder of POUND, Ben Allen — CEO and Founder of GROOV3, Bam Bam Boogie — Founder of Twerk After WORK, Antwon Keith Collier — CEO of Florida Fit, Katie Schaar — Creator of Sugar Foot Therapy, Marja Lankinen — CEO and Founder of Yoga for Dancers, Emily Nelson –Co-owner and Creator of High Fitness, and Haley Stone — CEO and Creator of WERQ Fitness. Halle Grano AKA DJ Ivy kept the tunes pumping all day long.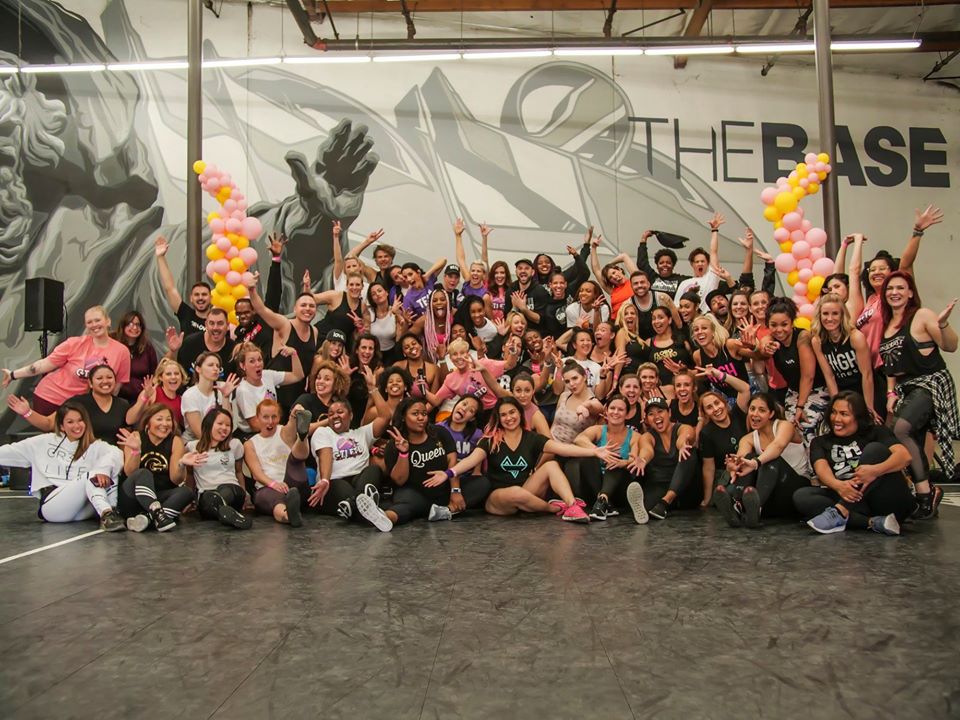 There was love. There was energy. There was sweat… a lot of sweat. And there was SWAG thanks to our awesome sponsors. Here are the deets on the brands festival-goers had a chance to meet at GTLFTD LA: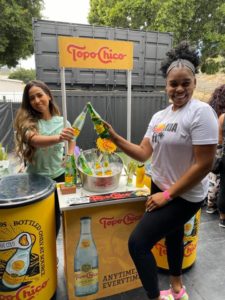 Joining us on site and quenching thirst during the Festival was Topo Chico Bottled Water. The glass bottled sparkling mineral water is available in two flavors — lime and grapefruit. Take your pick. Both are perfectly refreshing after a day of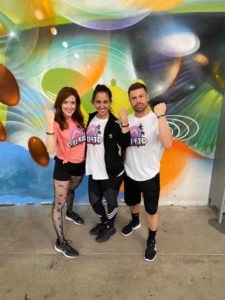 dancing.
La Cle is the maker of the seriously cool focus bands received by each festival
goer. La Cle's action-based apparel (translation: wearable inspo!) helps you look good, feel good, and do good.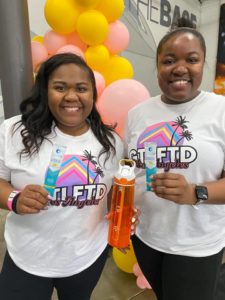 Next time you need hydration on-the-go, take a
Liquid IV
Hydration Multiplier with you. 1 stick of Hydration Multiplier drink mix in a bottle of water can provide the same hydration as drinking 2-3 bottles of water, along with 3x the electrolytes of traditional sports drinks and 11 essential vitamins. Translation? More fuel for all the dancing.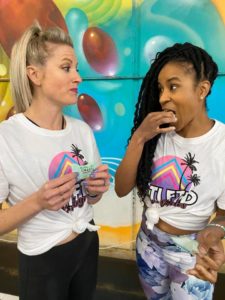 Smashmallow is no ordinary marshmallow. Each mouth-watering puff is made from only the very best simple ingredients, then whipped to perfection for an instant, sweet-tooth satisfying pick me up that's a guilt-free, every-day, any-time of day treat. Because who needs guilt? Definitely not our dance fam.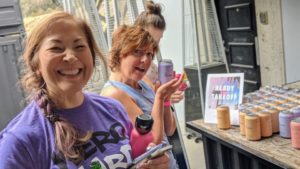 It's always okay to take a break, and when they did, dancers grabbed a can of Recess. Recess is a sparkling water infused with hemp extract & adaptogens for balance and clarity. All-natural flavor options include Pomegranate Hibiscus, Peach Ginger, and Blackberry Chai that are as good as they sound.
Festival-goers could be seen chatting with friends old and new between Sweat Sessions while snacking on Split Nutrition. Split is the first-ever pair of nut butter and fruit spread in an easy, on-the-go snack pack. Made with real ingredients, it's the perfect balance of healthy fats (nut butter) and simple carbs (fruit spread) to give you the boost of nutritious energy you need to fuel your active (ahem… dance-loving) life.
We work up a lot of sweat while moving and grooving. Thanks to Little Seed Farm, our festival goers kept on smelling fresh. Their aluminum and baking soda-free deodorant is made from nourishing and gentle organic ingredients. That's right — no harsh chemicals!
With essential electrolytes and a blast of antioxidant vitamin C, Lemon Perfect is a deliciously hydrating and naturally energizing cold-pressed superfruit beverage that helps you live your perfect day, every day.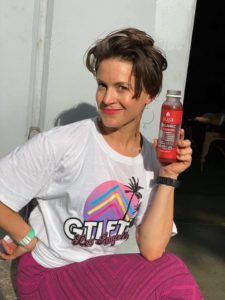 With a wide range of cold-pressed organic offerings Suja Organic has a juice for every lifestyle, including our dance fitness loving ones. We sipped on the plant powered goodness between Sweat Sessions, taking in the nutrients needed to keep on moving.
Coola Sun Care is passionate about creating beautiful product experiences that embody a happy, healthy lifestyle. They believe that clean beauty should feel as good as it is healthy, which is why they're on a quest to develop organic products you'll love wearing every day.
The LA Sun + GTLFTD Dance Fitness Festival = Extreme Heat! The Misty Mate Mistpro 3 hand-held personal mister helped keep our stage talent cool with its continuous ultra-fine mist. Snag your own and pop it into your gym bag (and beach bag) to COOL OFF, COOL OFF.
GTLFTD LA may be over, but the fun doesn't stop here! The next in-person event is July 31, 2021 in Chicago. Get tickets HERE. And we'll see you for the virtual event on July 25, 2020.
A huge GTLFTED thank you to all of our sponsors for their support!