WERQ Founder, Haley Stone, launches #GETLIFTED Fitness Festival
Haley Stone introduces the #GETLIFTED Fitness Festival designed for group fitness addicts & workout professionals alike with a lineup of industry heavyweights.
The first #GETLIFTED Fitness Festival by WERQ founder Haley Stone that will be open to fitness enthusiasts is set for Saturday, September 24th at Chicago's beautiful event venue, Hyatt Regency McCormick Place. As an attendee of numerous conferences in the past, Stone has set out to create #GETLIFTED as the premier fitness festival in the Midwest for both fitness professionals and consumers. The complete three-day event is not just about the sweat; ticketholders can expect to learn from and
#GETLIFTED with motivating dance and fitness personalities from LA to Chicago to NYC who are at the forefront of their industry. Attendees ranging from fitness novices to professionals will enjoy 'meet & greets' and lectures from an inspirational lineup, immerse themselves in the hottest new workouts on the market with #GETLIFTED's Sweat Sessions, and even participate in a 'fitness concert' led by 12-year fitness vet & WERQ creator Haley Stone titled, AFTERWERQ.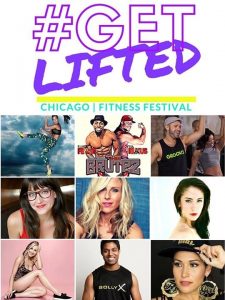 The interactive group workouts and motivational sessions are led by Haley Stone, Emmy-Nominated Choreographer Kathryn Burns, GROOV3 Creator & LA-based Choreographer Benjamin Allen, BollyX CEO & Co-Founder Shahil Patel, The Brutez: Dancing Body Builders, Fly Girl 101 Creator Lisa Marie, Yoga for Dancers Creator Maja Lankinen, Nike Master Trainer Nikki Metzger, and Flight Fit Creator Sydney Benner.
Tickets are available for purchase at GETLIFTEDevent.com. Friday's 'meet & greet' is open to VIP ticketholders. Sunday's programming is reserved for fitness professionals looking to pursue the WERQ Dance Fitness Professional Certification.